17 Gennaio 2007 Articolo di
Ubaldo Scanagatta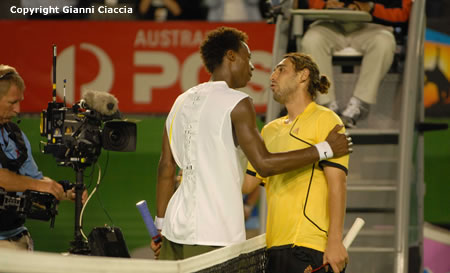 Ascolta l'intervista esclusiva con Maria Elena Camerin
n.b: E andate a vedere il post che ha scritto Daniel Panajotti, attuale allenatore di Maria Elena, ex di Francesca Schiavone
Ma vi pare possibile che alle due di notte ieri ci fossero ancora quattro incontri in corso? Che senso ha far giocare dei signori professionisti davanti a 20 spettatori? Seppi e Reynolds (che hanno chiuso pochi minuti prima di Myrni-Horna) hanno probabilmente battuto un record finendo alle 3,33, sebbene io ricordi anche un Muster-Volkov che commentai per Tele+ con Clerici (che non ne poteva più…) da Flushing Meadows che finì al quinto intorno alle tre di notte. Ma già al match fra un artista del tennis quale Fabrice Santoro e il giovane promettente Kunytsin, finito alle una, c'erano appena 6 spettatori in tutto. Un'atmosfera desolante, che spiega anche in parte perché il russo, sotto di due set e sempre più confuso dai tocchettini di Santoro, abbia mollato il terzo 6-0. In quello tanto atteso fra il croato Cilic e il serbo Bozoljac (dominato da quest'ultimo 6-2,6-4,6-1) _ atteso per la rissa fra i 150 nazionalisti delle due diverse fazioni dell'ex Jugoslavia _ c'erano più poliziotti, almeno 200, che spettatori. I primi molto agitati, i secondi molto tranquilli. Per sedersi vicino al campo bisognava passare tre filtri, con le transenne disposte a serpentina…Insomma avete presente una partita (di un qualsiasi sport) giocata in carcere e sotto gli occhi dei questurini? Stessa cosa. Molto più bello l'episodio che ha seguito l'infortunio patito da Mathieu nel tiebreak del terzo set (una gravissima distorsione alla caviglia). Il suo avversario, Verdasco, lo ha voluto accompagnare personalmente in ospedale ed è stato con lui fino alle tre di notte…
Ma ora vi parlo della vittoria, con un paio di matchpoint annullati, di Maria Elena Camerin su un'altra Elena, la russa Vesnina (n.41 Wta) e della sconfitta di Francesca Schiavone con la ceca Lucia Safarova (n.70).
Maria Elena Camerin è la prima italiana a raggiungere il terzo turno all'Open d'Australia. E a questo punto soltanto Tathiana Garbin può raggiungerla se batterà domani la ceca Renata Voracova. L'anno scorso ne avevamo cinque al terzo turno, non siamo certo migliorati. Poi farò un po' di calcoli…ma secondo me Tati potrebbe anche diventare la n.1 italiana. Francesca scenderà un bel po' dal quarto turno (e 90 punti) al secondo in uno Slam, Flavia dal terzo al primo, mentre la Garbin che a n.33 è al suo best ranking può salire considerevolmente.
Mi dispiace soprattutto aver visto una Schiavone irriconoscibile. La Safarova, servizio mancino assai efficace, l'ha dominata dall'inizio alla fine e il punteggio poteva essere più netto, visto che conduceva nel primo set per 4-0 e nel secondo ha avuto tre matchpoint già sul 5-2. Ho visto la partita accanto al mio ex compagno di telecronache Roberto Lombardi (mi ha tradito per la Pero…che ci posso fare?) e a tre posti da Corrado Barazzutti. Dall'altra parte del campo invece il nuovo coach di Francesca, Coppo (lo stesso di Mara Santangelo). Nessuno si capacitava del fatto che Francesca subisse sempre l'iniziativa della ceca dal bel personalino, ben evidenziato dall'aderente abitino verde pisello, e scentrasse una palla dopo l'altra. "Deve giocare più lungo _ diceva Barazzutti (che non mi parla e io nemmeno so perché…anche se è sempre stato talmente permaloso che non me ne meraviglio, né mi cambia la vita) _ ma non la centra mai!" E Lombardi: "E' sempre sulla difensiva…". Francesca dirà poi che in allenamento "Francesca può giocare ad alto livello oppure non riuscire ad esprimersi…è diversa da Silvia Farina…lei più regolare ma più in difficoltà con le top, Francesca più esplosiva, capace di raggiungere livelli più elevati …Negli ultimi tre giorni ha battuto due avversarie fortissime, ma non rivela il nome. Chissà perché, le chiedo, Francesca ama parlare in terza persona? Lei, imbarazzata, risponde che è uguale, Francesca o io…Boh…Altro boh sulla sua decisione di affidarsi ad una ragazza, tal Federica Russenente, che le fa da ufficio stampa…e a cui bisogna rivolgersi per aver la grazia di un'intervista. Nemmeno fosse Rafa Nadal (che, per inciso, ha "strappato" all'Atp Benito Barbadillo)! "Ho bisogno dei miei spazi…" ha spiegato Francesca. Io so che per certo non gliene tolti molti, in passato. Forse la Gazzetta? D'ora in avanti anche Vincenzo Martucci dovrà passare dalla signorina Ruzzante. Ai miei occhi abbastanza ridicolo. A quelli di Tommasi poi…non vi dico! E non l'ha detto nemmeno lui. Bastava guardarlo negli occhi. Piuttosto, attenzione, mi ha colpito un'altra frase di Francesca. Non quella pronunciata sul campo, all'atto di cambiare sul 4-1 per Safaraova al secondo "Ma perchè gioco ancora?". Ma quella con noi giornalisti italiani a fine conf.stampa: "Ho 26 anni, vado per i 27, o la situazione si sblocca altrimenti che senso ha continuare a giocare a tennis?".
Forse sono cose che si dicono dopo una sconfitta che brucia particolarmente, ad uno Slam, da una giocatrice peggio classificata, ma andava comunque registrata. O no?
Se vogliamo parlare di cose più allegre, dopo che tre ragazze su quattro del team vincente di Fed Cup hanno perso al primo turno e la quarta (Francesca appunto) ha perso al secondo, beh chiacchieriamo con Elena Camerin, dopo aver fatto una battutaccia al suo coach Daniel Panajotti: "Dicono che tu abbia stappato champagne per la contemporanea vittoria di Maria Elena e la sconfitta della tua ex assistita Schiavone…è vero?". E' naturalmente una provocazione, lui non abbocca, è felice per Maria Elena, questo sì. "La Schiavone è il passato" si lascia scappare e a qualcuno più maligno pare quasi una frase ambigua. Da quel che racconta Maria Elena si capisce che Panajotti la fa lavorare assai duramente "fino alle lacrime".
Lei compierà 25 anni il prossimo 21 marzo. Con le russe deve aver un fatto personale: il suo miglior risultato in carriera l'ha ottenuto a spese di Anastasia Myskina (era n.2 del mondo, a Bali), l'anno scorso qui annullò sei matchpoints a Ekaterina Bychkova. Ieri due, sul 4-5 e sul 5-6 nel terzo, a Elena Vesnina. Visto che al prossimo turno affronterà Elena Dementieva ("Una delle poche russe davvero simpatica") chissà? "Serve peggio di me oggi…_ ride Maria Elena _ però in realtà quando batte ad uscire nei punti pari è difficile attaccarla con la risposta. A Hasselt in Belgio ci ho perso 6-3,6-3…".
E' una ragazza sempre sorridente, simpatica, genuina. Le scappa qualche frasettina appena polemica ("Ringrazio i miei genitori, sono i soli che hanno sempre creduto in me") e fa capire che la federazione, fin da quando era piccola e si pagava le spese per l'US Open junior, non l'aveva mai tenuta troppo in considerazione. "Nell'ultimo anno in Fed Cup non mi hanno mai chiamata, è una questione di scelte, ma per me non c'era mai posto…in Francia è andata Romina Oprandi (che non aveva ancora fatto i quarti a Roma), in Belgio Roberta Vinci che non aveva giocato da un pezzo…". Tiene alla nazionale ma non potendo averla …sta con un nazionale, di pallanuoto (e da 10 anni), Leonardo Binchi, ex della mia Rari Nantes Florentia, oggi della Leonessa di Brescia. Come fa a stare, lei alta un metro e 64 cm con uno di 2 metri? Basta sentire l'audio dell'intervista che ho registrato e che comparirà quanto prima su questo blog. Qui accenno soltanto al fatto che Marat Safin è stato a due punti dalla sconfitta ed è stato salvato dalla pioggia sul 5-6 30-30 nel quarto set con l'israeliano Dudi Sela. Quando ha ripreso ha messo a segno un ace, ha vinto il set e non ha più perso un game. Sela israeliano? Già, e nostro prossimo avversario in Davis ad aprile allora. Come sono usi fare qui gli aussies…ohi,ohi,ohi
Le interviste di Safin, Sela e Baghdatis
Q. The first four sets were a bit of a struggle. The rain came and then you dominated. What was the story of the match?
MARAT SAFIN: Well, I kind of was playing pretty well, actually the first set and a half, and I was serving for I think I was serving for the second set, and then I just lost a little bit the rhythm of the match and I lost a little bit yeah, the rhythm.
And then I was struggling for about two sets, then I couldn't understand what to do and I couldn't really serve. I was struggling on my serve, couldn't return his. And whatever I was doing, he was making passing shots all the way around the court, running around, making great he was full of energy, great spirit, and I just couldn't find the key.
And then the rain came and changed everything because otherwise I don't think I would win if the rain doesn't come. I was lost.
Q. What did you say to yourself in the break when the rain was coming?
MARAT SAFIN: No, just that the most important thing is just to go to the tiebreak, and the tiebreak is just a different story. He's not really a big server, and I would have my opportunities, and that's what happened. I served wide, perfect, and then it give me a little bit of confidence and then it went to a tiebreak and I knew already that I would have to push a little bit and everything is going to be all right.
Q. How aware were you that the rain was coming? Could you feel that the rain was coming?
MARAT SAFIN: Well, it start drizzling a little bit before, and then it stopped. Actually I couldn't see the ball because I asked for the lights because it started to get dark and I cannot really see very well. It was tough conditions and I was trying to make some changes, just something to change because of the way everything was going.
And on the same down the highway, one way ticket, and there was no chance for me to break him. So I asked for the lights. I asked them to stop the match because it was really a little bit slippery, so I just wanted to stop the match.
I wasn't an asshole, but (laughter) I used the opportunity.
Q. You used it to your advantage?
MARAT SAFIN: Yeah, but it was reasonable.
Q. You've beaten Andy Roddick in the semifinal in Moscow in September. Do you think that might have an influence on your third round match over here?
MARAT SAFIN: Well, it's a different story. It's not Davis Cup. It's not clay court. It's a hard court. It's playing pretty well. It's a new season. If it's Roger Federer in exhibition Kooyong he is full of confidence. He struggled a little bit in the first round and today he looked very solid, serving big.
But I am already 100 percent into the game and I had two tough matches, so it's kind of also an advantage for me because I already have been running for seven hours on the court and I'm already warmed up.
Q. You had another experience with rain at this tournament and it worked out well for you, as well, again. Tommy Haas?
MARAT SAFIN: Yeah. You remember this even (laughter). Yeah, it's kind of surprising. Against Tommy it came down all of a sudden. I couldn't even expect. And then all of a sudden it rained and they closed the roof and it was a completely different ballgame. The same like today, just I was lucky it started to rain a little bit stronger, because before like I said it was drizzling a little bit and they didn't want to close the roof.
So this time I said, No chance. I'm not going to play. I'm not going to risk it, and I just took advantage.
Q. What's the dynamic with you and Andy? How does the match decide itself? How does it play out?
MARAT SAFIN: Well, he improved his game. He changed a little bit. He started to improve his backhand, and he's playing a little bit more solid. Other than that, he's using more his serve and he's not running around the baseline. He's trying to go forward and take position at the net.
So I don't know, it's very important for us, for both of us, I guess, who is going to be more aggressive at the beginning of the match and who will take the opportunities and who will choke first (laughter).
So it's kind of interesting match for both of us. I think he's looking forward. I think he was watching my match and studying me as well as I was studying him, and hopefully it's going to be interesting. I'm pretty sure it's going to be a late match. So let's see how it goes.
Q. These two particular five setters, how do you feel physically?
MARAT SAFIN: Like I said, warmed up. Well, I'm not really tired, but these kind of matches actually gives me opportunity. Maybe it's a little bit too long, but otherwise I would need one or two matches like this to get the rhythm of the game. Because I lost it a little bit and I was struggling in the first match with the rhythm, and I was all the time making I was in the wrong place all the time. I couldn't see the ball right and I couldn't move, and I was a little bit too nervous, like too stiff.
And today was completely different. I started to hit the ball pretty well. We were playing around, volleys, serving, that sort of thing. I think it gave me some kind of a confidence, but I'm not tired.
Q. Can you compare the coaches, Volkov against Jimmy Connors?
MARAT SAFIN: Well, Volkov beat him once and he retired after this match (laughter). Both lefties, both talented players. Of course Jimmy achieved much more. But I think they have pretty similar view of tennis because of the things that Connors is doing with Andy is pretty similar that Alex wants to do with me. So I guess it's all generation classics and same era of tennis.
Q. So he wants you to move ahead all the time then, Alex?
MARAT SAFIN: Yeah, well, there's not much you can do from the baseline, because from the baseline everyone is playing pretty well. There's a lot of guys that they can stay forever, so there is no fun for me also to run around with 1 meter 95 for running around to the baseline at the age of 27. Looks a little bit ridiculous.
So to make my life a little bit easier and to use my height and my serve a little bit to put a little bit of pressure and to try to look for something at the net even though they are passing me on that, but at least be more aggressive and look for the life at the net, not at the baseline.
Q. Had you seen Sela before, and were familiar with his game? How familiar were you with his ability?
MARAT SAFIN: Well, I knew he was a really good junior. He warmed me up maybe four or five years ago in Roland Garros before a match, and afterwards, I never saw him.
All of a sudden he appeared here. He qualified to beat Srichaphan. He's a very decent player. He's kind of similar to Rochus, but great talent, good legs. He sees the ball pretty early and he knows what he's doing. Pretty smart and he's using his advantages.
Q. Will you be getting a chance to watch your sister play at all this week?
MARAT SAFIN: Well, yeah, if she's playing in if they're going to show it on TV. I'm looking forward. But I didn't see her this morning.
Q. How well do you think she'll go this year?
MARAT SAFIN: Well, I know what kind of a draw she has. She won the tournament the first week of the year. She beat Hingis. I saw that match, and I think she's doing pretty well with her coach. She improved a lot. She's top ten, and I'm pretty sure she's fit and she's ready to win, and I think she can go far.
Q. How many five setters do you think you have in your body at this tournament?
MARAT SAFIN: As many as I need to win (laughter). Getting better.
Q. Seven?
MARAT SAFIN: No problem. If you get me to the final, I will run as many as you want.
Q. I don't think you've ever lost a five setter here.
MARAT SAFIN: Well, let's knock on wood.
L'intervista di Dudi Sela
Q. You were two points away from winning that match when the rains came. What was going through your mind at that moment?
DUDI SELA: I was very positive. I came to the after it stopped raining and they closed the roof, I came to the court. I was very positive. I was hoping that he would miss the first serve, because I saw after in the statistics that every time he was missing the first serve I was winning most of the points.
But he hit a great serve, an ace, and then another service winner, so I had almost nothing to do.
But when I came out to the court after the rain, I don't know why, my body maybe was cold or something. I was running and I had cramps in both of my legs.
I didn't feel it in the tiebreak from adrenaline and everything, but after in the fifth set I was dead.
Q. You had some amazing shots in that match that none of us had really seen too much of from you. Tell us about where you've been training, where you're from, and what your hopes are?
DUDI SELA: I'm from a small city in Israel called Kiryat Shmonna where all the bombs and everything. I moved to Tel Aviv, the center of Israel, when I was 14. And since then I was good in juniors, I was not bad. I was like top five in juniors.
Last year I had back luck. I was 140 already and I broke my elbow and I didn't play for four months. So it was very tough. The last three months I was playing well. I was from 380 because I dropped. I came back to 190.
I'm feeling good with my tennis. I think that I can improve my game and be close to the 100th. I want to finish this year close to the 100th.
Q. Does performing this close to someone like Safin help your confidence?
DUDI SELA: I hope so. Not every time I play Srichaphan the first round and Safin the second round. I hope I will learn from these two matches. I had good experience today playing in the big court that I don't play always. In challengers we play with maybe five people, so it's very nice atmosphere.
I was happy the way I played, just bad luck with the rain.
Q. Was that the first time you had ever played over a full five sets?
DUDI SELA: Yeah, I never go to the fifth set. Always I played a few times the best of five, but always finish in three or four sets. So the first time.
Q. And did you feel the pressure and the tiredness in that last set?
DUDI SELA: I was like I said, when I came back after the rain I was cramping in my fingers and the feet and the left leg. I didn't care so much I was cramping, but I was running and I knew not every day I have a chance to have seven points to win and to win against Safin, who is No. 1 in the world.
Q. Why is it the Israelis are always able to produce one good players every few years. There's always one or two. Why is that?
DUDI SELA: Are you sure? We haven't had any for a long time.
Q. Harel Levy, Mansdorf is good.
DUDI SELA: Harel Levy, I don't know. I think he's probably aware of the spirit inside of all of what's going on in the country. It's give us something. But also it's sad, but we want to do the best when we are out of Israel when we play tennis because we know we are very fortunate, so that's why.
I think
Q. It's not because of good facilities or good coaches?
DUDI SELA: No, no, I don't think so. Israel is not the best country to practice. I was practicing a lot in France, you know, with Baghdatis. We are very good friends. So that's why I think I I have a little bit of tennis.
Q. You say you broke your elbow. How did you do that?
DUDI SELA: I was doing physical exercise and I was jumping like I don't know how you call it, like runners' jumps.
Q. Hurdles?
DUDI SELA: Yeah, and then the thing broke, you know, and I fell down on my elbow. It was like a box like one and a half meters. Bad luck.
Q. When was that?
DUDI SELA: It was straight after French Open last year.
Q. How long did you was it before you
DUDI SELA: Almost four months. I mean, I played the last month but I still had pain, so three months and then four months.
Q. You said you're friends with Baghdatis. Do you work out with him a lot?
DUDI SELA: The last two years not as much, but since we are 14 until 18 we are very good friends. I'm very happy for him where he is. I hope one day I will be the same. Maybe not as good, but
Q. You did well here in the juniors one year, didn't you?
DUDI SELA: Yeah, semifinal, I think.
Q. So it wasn't a surprise, the conditions weren't a surprise?
DUDI SELA: No, no. I like this. It's the same course that we have in Israel. It's very similar. I know these conditions. The heat, I like it. We have the same in Israel, so it's for my advantage.
Q. You realize that in four sets you were probably the better player on the court?
DUDI SELA: I hope so. No, I played well today. The court is the quarters I played much better than today. I was feeling the pressure. It's a big court and it's tough to play. The first time I played I played Federer in first round French Open. But in the beginning I didn't feel the ball at all, and then slowly, slowly I got into the match.
Q. Would you happily describe this as the game of your life even though you lost?
DUDI SELA: Yeah, I think it's the best yeah, I think it is. I didn't have so many times to play in the big court and play well. The last time I played was Federer, and he killed me.
I thought I should quit tennis, and now I'm happy that I can show that I'm a good player and I can be close to the top hundred.
Q. When the rain came out were you cursing? You had the momentum there and
DUDI SELA: Before the rain came on I knew in myself I'm going to win the match. I had so much momentum and I was very pumped. Then the rain came on. We could play the first, the first point, but still, it's bad luck. I think the rain came in a bad moment.
E quella di Marcos Baghdatis
Q. It probably isn't the way you wanted to go out, I'm sure, out of this tournament, but do you feel like he deserved it, or did you have trouble keeping the ball on the court?
MARCOS BAGHDATIS: Of course he deserves it. He beat me, so I cannot say he doesn't deserve it. It's just tough. Everything went so fast and just couldn't control anything. The match went so fast. I don't know what to say.
I mean, I'm a bit disappointed. I tried to fight, I tried to find a way, but nothing was working. I tried to go on the net. He was putting the ball in, and I just didn't know what to do. I wasn't here. I just wasn't in the match. I don't know, it's tough to it's tough to speak. I'm just a bit disappointed.
I'm playing good. I'm playing good in practice. It's just like I don't know, I just don't know. It's tough because I felt so good after playing against Moya, and coming here, playing really good. Just I don't know, that's the way it is.
I mean, Gael just played a great match today. He was very aggressive. He was hitting the ball very aggressive. He wasn't being very aggressive, but he was playing deep all the time. I just couldn't find a solution.
I served bad and I was going too fast. I just didn't want to be out there. It was tough being out there, and that's all. I cannot say anything more.
Q. You were playing well in the third set and then he had his problem with his foot and the match changed totally after that.
MARCOS BAGHDATIS: Yeah, you know, I lost my momentum that one time. I had to be good anyway. I had to win the match or had to play five sets and you have to win three sets, and I didn't today. That's the guy that did it, and he deserves to win. He played better than me today, that's all.
Q. He seemed to be unable to walk, and then suddenly he was running around like a deer.
MARCOS BAGHDATIS: I don't know what to say about that. I don't want to judge anybody. I mean, he's right he can do what he wants. If he had pain, he had pain. If he didn't, I don't know. I don't want to judge. I know the guy. He's not the kind of guy who would do that. It's nothing.
Q. How different would you say your attitude and the way you approached your matches coming here this year was compared to last year?
MARCOS BAGHDATIS: I don't know, it's tough, because I'm not I'm the guy to beat, and it's not easy. It's not easy. But I think it's a very good experience for me. I take it positive because it's the first time I felt like that, and that's very good.
I played two matches, I tried to deal with pressure, and it's not the same pressure as before. It's a bit different, and I have to get used to it. I have to build up, work hard like I'm working now, and I think one day it will come.
It's not a matter of tennis. I'm just playing good, and I feel good in practice, and it's just small things that I need to work on and just get more experienced to find my way easier in these matches.
You see Roger, Roddick, the good players never lose easy matches I mean, easy matches. I mean, second round in a Grand Slam. They're always concentrating on it. I need to find that.
I need to find my way to play more consistent tennis and to build up and to win easy matches more often.
Q. The pressure you spoke about the other day with a large family here, did you think you carried that onto the court tonight?
MARCOS BAGHDATIS: No, it was much better. It's just, I don't know, it's tough. Everything went so fast. The match went so fast for me. I was two hours 30 out there, but I'm coming out. I don't understand a thing, to tell you the truth.
I feel like it's been like ten minutes I'm out there. It went so fast for me. I was just taking the ball playing without thinking, without thinking what to do. I mean, it was not so good. But like I said before, Gael deserves to win, and that's all.
Q. Are there lessons that you'll take into other major tournaments after this with some of the off court stuff you talked about with a lot of people around and do things differently at other tournaments?
MARCOS BAGHDATIS: Really I don't want to talk about this now because that's not the problem. I lost the match. I want to just forget about this. I mean, there are more important things in life than losing a tennis match.
I came out, I I'm a bit disappointed, and like I said, everything went so fast and I just don't know what to say. The match was a bit weird for me, my feeling. Every time I went to the net I was feeling like I don't know where I'm standing on the court.
Every time I hit the ball, I don't know where I'm hitting the ball. I mean, I was really feeling very weird.
Q. Have you felt like that before at a big match?
MARCOS BAGHDATIS: I don't know. I don't know. Yeah, there's some matches that you go on court and you lose 6 4, 6 4 and you don't know what happens. It's a bit like that. I tried to fight. Even in the fourth set it was 6 Love, but all the games were deuce, advantage, and important points I wasn't there.
I just didn't know what to do. I just I don't know. I don't know what to say. It's tough. It's just tough to say something.
Q. It's hard right away after a match, too.
MARCOS BAGHDATIS: Yeah. Just I don't know.
Q. One thing I had asked is you were sort of a marked man after you got to the final here last year. People were eager to play you and you said you were the player to beat. That was the case last year, too, so why can you feel so differently this time?
MARCOS BAGHDATIS: No, I wasn't the guy to beat last year.
Q. People were looking at playing you more after Australia last year all season, right?
MARCOS BAGHDATIS: Yeah, all season, but it's a big difference coming here. It's a big difference. It's not the same thing as last year.
Q. Because of the points?
MARCOS BAGHDATIS: Not the points, but it's a Grand Slam. You play in the finals, it's much way different. It's different.
Q. Can we just go back to Monfils for a second? You played him in August last year. How much has he improved since then?
MARCOS BAGHDATIS: Listen, I think at that time he had problems with coaches so he wasn't feeling so good. I couldn't say. I mean, every day is different. I mean, one day we play good, one day we play bad. One day you're good at important points, one day you're not.
He improved. Today I think he stuck with his coach before this tournament. He's playing with nothing to lose, and you saw how confident he came on the court and how he's hitting his forehands and how he's running everywhere. He's very confident, and that's a lot.
The tennis he has since two years, he doesn't improve anything amazing in tennis. It's just the confidence. It's just the experience. I think it's good that he found his way, he stuck with his coach and he's feeling very confident now. That's the difference, I guess.