24 Gennaio 2007 Articolo di
Ubaldo Scanagatta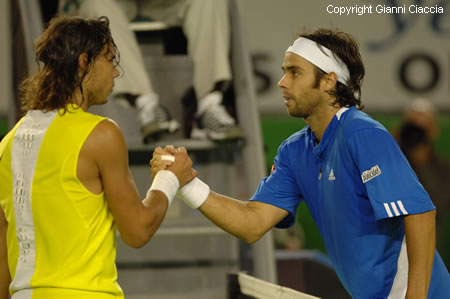 MELBOURNE _ Che partita ha giocato Gonzalez! 6-2,6-4,6-3 a Nadal, 20 dritti vincenti contro 7, lo stesso numero di errori pur prendendo enormemente più rischi. Roba da far paura. . Decisamente la cura Stefanki gli ha fatto bene almeno quanto quella di Connors ha fatto a Roddick. Un giorno dibatteremo sull'influenza dei coach. Molta, poca? Voi, se avete più tempo di me, potreste discuterne già adesso.
Se Haas ha avuto anche un po' di fortuna (quando si vince con il matchpoint contro…), a compensarlo della tanta sfortuna avuta in passato (fra infortuni personali e familiari…ricordate l'incidente patito dal padre, finito in coma), Gonzalez ha letteralmente dominato Nadal. Ho appena sentito Rafa, che doveva concedermi un'intervista domani e ora chissà sarà magari sfumata _ ma il suo manager Benito Barbadillo mi ha portato il mio telefonino che era finito non si sa come nelle mani di Flavia Pennetta _e ha detto che non era al cento per cento, che non poteva correre, che gli faceva male il "mio famoso culo!". Sì ha detto proprio così. E qui sotto vi metto la sua intervista.
Però, male o non male _ e non ho motivo di dubitare dell'onestà di Rafa _ Gonzalez ha giocato in maniera superba. Rino Tommasi l'aveva inserito, così come Haas, fra i giocatori di seconda schiera. Io non ne sono tanto convinto, anche se è vero che questa è la sua prima semifinale d'uno Slam. Dopo aver centrato i quarti in tutti gli Slam, a dimostrazione della sua completezza e adattabilità a tutte le superfici, "Gonzo" _ questo è il soprannome più comune, ma ce ne sono mille altri, dal diminutivo "Fena" al "Bombardero de la Reina" perché il tennis club de la Reina è dove ha cominciato a giocare, "fer" , "Mano de Piedra", e il più ovvio…Speedy Gonzalez _ non ha solo un dritto fenomenale e un gran servizio, ma anche un rovescio slice adesso che riesce a seguire a rete (che abbia visto Roddick?) e una tranquillità di gioco che prima assolutamente non aveva. Può diventare forte come Rios, mi chiese tempo fa un quotidiano di Santiago che mi interpella spesso? Io me la cavi dicendo che aveva più fisico e più potenza di Rios_ quindi doti per durare più a lungo, per sopravvivere meglio al circuito _ ma anche meno talento naturale e soprattutto pensavo che non avesse la testa adatta per diventare un numero uno. Ma ora non ne sono più così sicuro…e voi che ne pensate? e chi è il favorito per voi? Il solo precedente, nella Nations Cup a Dusseldorf non conta nulla. Piuttosto contano due semifinali già disputate da Haas, una persa con Kafelnikov, l'altra con Safin (e Tommy stava dominando quando piovve, il match fu sospeso e al rientro Safin divenne irresistibile) e anche il fatto che Haas l'anno scorso fu l'unico a trascinare Federer al quinto set…Gonzalez pagherà lo scotto della prima volta, o invece si avvantaggerà del fatto di essere più fresco? lui ha giocato 3 set, Haas cinque e se Davydenko non sbagliava quella risposta di rovescio in rete…
L'intervista di Nadal
F. GONZÁLEZ/R. Nadal
6 2, 6 4, 6 3
An interview with:
RAFAEL NADAL
THE MODERATOR: Questions, please.
Q. Fernando was in awesome form out there. What was it like on the other side of the court? Could you do much against him?
RAFAEL NADAL: Well, he's playing very good level, that's for sure. Maybe was not a good match for me. I don't know if I can say I am playing bad, but for sure I can't play at hundred percent, no?
I have problems in my leg, so I cannot run. I can't run a lot. Was difficult play one match like this, quarterfinals of one Grand Slam, with pain, without the best conditions, no?
Q. When did you hurt your leg?
RAFAEL NADAL: After the match. After the last match of Murray.
Q. Is that what the treatment was for?
RAFAEL NADAL: Yeah.
Q. What exactly is it?
RAFAEL NADAL: I don't know. I don't know. I really don't know why. I was thinking before the before the match, I was practicing a little bit in the hotel because I was very tired. Today I going to warm up. I don't feel very bad. I just feel very tired. The leg hurt.
When I am on court, I am trying to run. Hundred percent run, well, I can't. I can't start. Was difficult and disappointing for me, no? I don't know if is a good opportunity because Fernando is very tough match. But for sure when you are in quarterfinals of a Grand Slam and you can't play with your best feelings, your best conditions, is difficult, no?
Q. Did you expect to win?
RAFAEL NADAL: Well, before the match, yes. When I am on the match, no.
Q. Did you do something in the match against Murray? When did you feel the pain in that match?
RAFAEL NADAL: I don't know. I don't feel the pain in the match of Murray, no? I feel later. I feel after. Well, I don't know. I was thinking was just tired. Normal. I was playing very tough match, I just feel tired. Maybe is not just tired, because is not normal. Walking right now I have lot of pain. Maybe is a little bit more than tired.
Q. What part of your leg is the pain in?
RAFAEL NADAL: Well, it's not just the one place. I have pain here, in my famous ass (smiling). After I feel a little bit here, too (pointing to the inside and outside of the thigh). That maybe it's just tired, no? But down this way and in the ass is very, very painful, no?
Q. What do you do now? Do you leave Australia as soon as you can? Where do you play next?
RAFAEL NADAL: Well, I going to leave on Friday maybe because tomorrow I don't have plane. Well, I want to play the Davis Cup after one week. I hope be hundred percent for Davis Cup. Is one of my goals always, play for your country is always special for me.
But I need go to the doctor and watch what I can I do right now, no?
Q. Will you have a scan?
RAFAEL NADAL: No, not yet. I just have doping right now. Nothing else.
Q. How much better a player is Fernando now? Does he seem more patient?
RAFAEL NADAL: Well, he improves his game a lot, no? He's playing with more calm all the time. Well, now he's doing a lot of slice, open the backhand. Sometimes is difficult.
Well, today I can't say so much, no, because I am not, I don't know. (Speaking in Spanish).
INTERPRETER: He really didn't have the chance to see how he plays because he was never at a hundred percent today.
RAFAEL NADAL: But for sure he has very good results. He improves a lot his game.
Q. Do you think he's got the game to beat Roger or Andy in the final?
RAFAEL NADAL: You never know. Roger is always very difficult. Is another level always. But you never know. When you are in one final of Grand Slam, you can win for sure because you are with big confidence. Anything can do.
But we will see the semifinals against Tommy Haas, no?
Q. You will have a scan in Spain?
RAFAEL NADAL: Yeah, for sure, because I have the Davis Cup after one week. I need know if I going to be in the team or not for me and for the rest.
Q. How much more disappointing is it when you have to leave a tournament after losing not being a hundred percent fit than when you lose in a tough match just normally?
RAFAEL NADAL: Well, disappointing, no, because I was playing fine. I was playing good. I was winning very important match two days ago against Murray. I was with good confidence for try to play this quarterfinals and try to go to the final, no? But, well, that's it. I was trying my best all the time. I was fighting a lot for being in this quarterfinals.
But these things happening sometimes. Well, it's not a problem. If I am playing bad, something, well, you can go to the home and say disappointing. But today I just say, well, I can't do more. I try my best. Well, that's it.
E quella di Gonzalez
F. GONZÁLEZ/R. Nadal
6 2, 6 4, 6 3
An interview with:
FERNANDO GONZÁLEZ
THE MODERATOR: Questions, please.
Q. Can you play any better than that?
FERNANDO GONZÁLEZ: I don't really know because I never play three matches in a row at this level. I've been playing really good, feeling the ball, defending, serving really well and, of course, hitting my forehand all around the court.
Q. What has been your secret? Is it your new coach?
FERNANDO GONZÁLEZ: Well, in tennis there is no secrets, I think. Of course, with my new coach I've been working a lot, working trying to stay calm in the important moments, and on some other things on my game that I've been improving a lot in the last months.
Q. What aspect of your game tonight was most satisfying?
FERNANDO GONZÁLEZ: My forehand. My forehand. I mean, I think I won a lot of points with my forehand. My return was really well, pretty good. I think that my forehand was the key of the match of today.
Q. Your forehand has always been your strongest shot obviously. Have you done a lot more work on the rest of your game to sort of bring that up?
FERNANDO GONZÁLEZ: Yeah, my forehand of course is my best shot, is my weapon that normally I won the matches or I lost the matches. But I've been working a lot on my slice, trying to leave the ball really low so I can come after with my shot.
Q. Did you notice during the match that he had a leg injury?
FERNANDO GONZÁLEZ: I saw that he called the trainer in the third set, but I saw that he was moving. I mean, he's a great fighter, he runs a lot. I don't really know.
Q. It's an hour since the match. Have you given any thought ahead to Friday, to meeting Tommy?
FERNANDO GONZÁLEZ: I saw the match today. It was really tough for them. Tommy is a great player. I know it's going to be a tough match.
We play few times maybe. I don't remember now. But we have maybe very similar game, you know: one hand backhand, baseline players, try to go in. Makes a lot of different things in the game.
Q. This is the first time for you into a Grand Slam semifinal. In terms of your career, how important is that looking back and to the future?
FERNANDO GONZÁLEZ: I mean, really important because the slams are the most important tournaments. I lost three times before in the quarters always like. But today maybe I'm playing the best tennis of my career at this time. I've been doing it in three straight matches.
I hope to continue because I feel really, really good at the court. I feel that I can make many good things.
Q. How differently are you approaching the big points now rather than just winding up and unleashing a forehand whenever you can?
FERNANDO GONZÁLEZ: If I have the chance, I go for it with my forehand. I mean, it doesn't matter if I miss a forehand on an important point.
But now I'm trying to find the right opportunity and stay a little bit calm, because maybe my game is like, you know, hitting, can get a bit crazy sometimes. But now I stay a little bit calm on that moment.
Q. What has helped you to do that, help to change the mentality a little bit?
FERNANDO GONZÁLEZ: I improve other things in my game. Years. I mean, I been on tour years. I'm working with my new coach, too.
Q. When you lost games previously, was there any one aspect of your game which opponents kind of capitalized on?
FERNANDO GONZÁLEZ: When?
Q. In the past.
FERNANDO GONZÁLEZ: If there is a point?
Q. Any aspect of your game which opponents were targeting.
FERNANDO GONZÁLEZ: Yeah. I mean, my backhand. I'm more fit now. I feel that I can play longer. I can run a lot. I can run and go for the next point.
I want to still improving, because I know that I can still doing much better the thing that I'm doing now. So I'm going to keep working.
E di Haas
T. HAAS/N. Davydenko
6 3, 2 6, 1 6, 6 1, 7 5
An interview with:
TOMMY HAAS
THE MODERATOR: Questions.
Q. Apart from the win, what pleased you most about the match?
TOMMY HAAS: The way I was playing I guess in the sets that I won. I mean, you know, I knew it was going to be a tough match going in. I had a lot of I wanted the revenge badly from after the US Open quarterfinal match I lost against him because those kind of matches now for me mean a lot more than maybe, you know, eight, nine years ago.
It hurt me a lot there for a couple days after the US Open. Being in the fifth set down a break, I kind of remembered that feeling. Just trying to hang tough, trying to make him win the match. That's what makes me really proud. Then saving match point, as well. You know, it couldn't have been a better outcome for me.
Q. How is your form now compared with five years ago, last making the semifinal here?
TOMMY HAAS: I really don't know. Five years ago, in 2002 when I got to the semis, a couple months after that I reached my career high of No. 2. I was playing some really solid tennis there for a good year. But I don't know how I can compare it to now. I haven't watched any matches from back then and now.
But I think the game is getting stronger and better each year. So I guess I'm playing better than I have in the past.
Q. Will you watch this match now?
TOMMY HAAS: Yeah, a little bit. As soon as I'm done here, get a little bit of a stretch and massage, I'll go back and watch. I've been watching them anyway, the other matches as well, but I'll watch the match.
Q. At one stage you called for the trainer on your right thigh. What was the story?
TOMMY HAAS: Just got a little bit tight. Sometimes when you get a little bit tight you know, I was stretching out for a ball. Felt like it was tightening up a little bit. Sometimes a little bit of hot cream or loosening it up can do magic. I just thought it was important. It feels fine.
Q. You also seemed to have something irritating your eyes.
TOMMY HAAS: Yeah, the cold breeze. Sometimes, I don't know, like my eyes don't do well with that. They just got really watery. I was asking to see if they had something to make that go away, which I knew was not going to happen. I guess with eye drops you can try to see if that happens.
I just don't have a good history with eye drops either. I just asked to have a little bit of small talk.
Q. Could you not see the ball when you were playing?
TOMMY HAAS: Just get watery, like I'm almost crying, a lot of water coming out of my eyes. Every time I'm trying to focus, closing my eyes a little bit. That kind of bothered me a little bit. With the shade coming through, I just felt at times I didn't see as sharp as I wanted to. Just asked to see if there's anything he can do.
Q. You were having quite a conversation with yourself at one point when it looked pretty grim. Nikolay said he thought you were going nuts. Were you going nuts?
TOMMY HAAS: Not nuts really. I thought I was playing really well the first set and a half, dictating play the way I wanted to play. I had a breakpoint at 2 All. I just made a forehand error that kind of bothered me. I lost that game.
The next game he came up with some good shots to go down Love 30. Then he returned two good balls. I lost the 4 2. Then I kind of just lost my head just a teeny bit. He kind of got into a groove.
That's then what starts happening. My eyes got watery. The shade started coming. So it was a few things that kept going into my head. There were pigeons flying around in the stadium. I was focusing on many other things as I sometimes can do.
Yeah, he was just getting better and better, and I just lost a little bit of my confidence and my concentration. The fourth set, the beginning was really important for me. Once I started playing well and got the break early, I felt like I was coming back to the way I played in the first set. Then I knew it was going to be a match.
Q. When was the last time you played a fifth set that well?
TOMMY HAAS: I played some good ones at the US Open actually. Before the US Open, though, I've had a lot of tough five setters where I've lost, got unlucky at times. It's been a while before that that I actually won a few.
At the US Open I played a couple good ones. There was tiebreak at 6 All and I got two of them against Ginepri and Safin. Another one actually against Davydenko, which I lost 6 4 in the fifth. It was one point away. Same thing, same kind of result. I'm really happy that that didn't happen.
Q. Do you feel like you might have snuck under the radar a little bit so far in the tournament?
TOMMY HAAS: Yeah, it's good that way. Obviously I've been here around much more than other players. It's nice to see the younger players coming up and getting the attention, besides Roger obviously. That's totally fine. I can definitely live with that. I just go out there, mind my own business, trying to, you know, improve my game, play well, play tough.
If I do that, like I said, I think I still got a lot of good game in me. If I stay injury free, I can enjoy this game for the next many more years hopefully, so be it. That's good.
Q. Can you use anything from the memories of the previous two semifinal appearances this time?
TOMMY HAAS: Another reason why I'm really happy today is now I finally beat a Russian in a big match here. I lost to Kafelnikov in the semis and to Marat in the semis in '99 and '02. If I would have lost the quarterfinal here against another Russian, it would have been really like never going back there again.
But, you know, it's tough. Like against Kafelnikov that one year, I think he was just playing incredible. Against Safin, the rain came in the beginning of the fourth set. I just went to the locker room for 20 minutes, laid down. That was totally the wrong call. Couldn't move any more after that.
Now we'll just see. I've got a little more experience obviously. I'm really happy, more experienced, more aware of the situation where I'm at. Now just see who is going to be my next opponent. Obviously it's not getting any easier. Just going to try my best. That's all I can do.
Q. What do you mean you laid down?
TOMMY HAAS: Laid down?
Q. You laid down in the locker room.
TOMMY HAAS: In '02, yeah. The rain came, obviously the Rod Laver roof closes, takes like 20 minutes. I was laying down just to kind of stay calm. After that I got up and I had no more legs left. That was a bad call.
Q. Do you feel like this result is a long time coming, given everything you've been through, this level of play?
TOMMY HAAS: Yeah, I mean, it's nice. In the Grand Slams, obviously it's where you want to do well. At the US Open, I mean, in the quarters against Davydenko, I had a good chance to get to the semis.
I didn't make it to play Roger in the semifinals there, which would have been an incredible feeling. That's why I also said it took me a couple days after that match to really actually weeks to recover from that.
A lot of things have happened in my career that many other players might not go through. I don't wish anybody two shoulder surgeries and being away for 15 months, not knowing exactly if you're going to come back or how your shoulder will feel. I don't think that's an easy task.
It happened to me while I was 24, 25 years old. If it would happen now at 28, 29, it might be a lot different. It happened to me not too, too bad of a time. You have to look at that as a positive, I guess. I'm just happy the way my shoulder's holding up. I'm enjoying the game. Just trying to improve.
Q. Your thoughts on your potential opponent in the semifinal.
TOMMY HAAS: Both are playing great tennis, especially these two weeks. Watched a couple of matches from both of them. Fernando obviously got a pretty nasty serve, the big forehand. He's moving well. Seems like he's trying to use the court much better now that he's been getting some good help from his new coach.
Obviously, Nadal, we don't have to talk much about him. He's a lefty. That makes him really dangerous. He fights like crazy and never gives up. He has a big, big forehand that you can really struggle with, lots of spin.
Both of these guys obviously are great players. Rafael Nadal already having so much experience, desire already, for such a young age is quite phenomenal.
Q. Last year, 2 All in the fifth with Roger, when you look back at that match, what do you think happened?
TOMMY HAAS: Well, it was a great match. I guess I was the only one that could push him to five sets here last year, which in the end of the day doesn't buy you anything, but makes you feel good, I guess. It was in the fourth round. I think I was playing also really good tennis here at the beginning last year to get to the fourth round, playing that match against him.
For a little bit of a while there I had a chance to beat him. At 3 2, just got that unfortunate break to go down 4 2. He played some good tennis, came up with a lot of winners at the right time. That's why he is where he is. There's not much you can really say about Roger's game and how he plays. We hear it all day and it's true.
Q. Nikolay said in his press conference he thought you had a good chance in the semifinal, but he also said you wouldn't be able to go away like you did for the second and third sets and have a chance to win in the semis.
TOMMY HAAS: Obviously, when you play against top players, maybe you get lucky like you did today every once in a while. In the end of the day, you can't allow yourself that to happen.
But it does make you feel good if it happens and you still come back and win. Gives you a lot of confidence. It's the beauty of best of five sets. You can allow yourself maybe a set or two to slip away that way. At the end of the day, obviously you don't want to that to happen. We'll have to see who my next opponent is. Then I really have to focus bit.
Obviously, I've played Rafa twice. It was tough. Had a few chances in Cincinnati I think in the first set, a couple set points. I really have to look at it and see how I have to play.
Same against González, also a tough player. Doesn't matter.
Q. If it is Rafa, did you watch Murray the other night?
TOMMY HAAS: Yeah, watched it a little bit. I think it was a good strategy the way he was playing. I think Murray is a little bit like me sometimes just losing his head, trying to focus too much what's going on around the game.
I think if he can get a clear head and really focus like a Nadal or somebody else, we obviously see what kind of potential he has to go to the top. Probably no question in my mind he'll be there pretty soon.
But it was a great match. Saw some great rallies. See the way that Rafa might not be too happy if you play him that way. At the same time also showed how tough that guy is mentally, that you really have to win the last point to beat him.
Q. Very emotional at the end of the match. Do you think it's a stronger feeling than the last time, last semifinal here?
TOMMY HAAS: It's one of my biggest matches that I won, for sure. In the quarterfinals, to save a match point, No. 3 player in the world, never beaten him before, coming back from a break down, match point down.
Obviously, you know, those are the moments you train for, you work for. So I let my emotions out obviously. It was a great, great feeling. Being here in the semifinals again, you know, eight years later, I mean, it's great.