22 Gennaio 2007 Articolo di
Ubaldo Scanagatta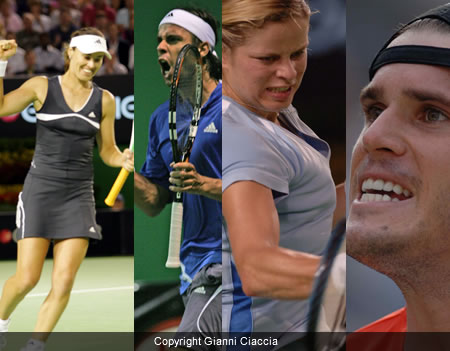 Mi ero perso Lopez e Trevisan, i due junior che avevano passato il primo turno. Così sono andato a vedere almeno Fabbiano, anche lui testa di serie come gli altri due italiani. Mi sbaglierò ma era un pezzo che non succedeva. Ha vinto anche lui, contro un mancino australiano assai vivo (ed estroverso, non stava zitto un momento). 6-4,6-4 e nel secondo set è stato bravo, il ragazzo di San Giorgio Jonico, perché sul 5-4 e breakpoint l'arbitro australiano ha fatto finta di non vedere un clamoroso doppio fallo dello junior locale, tal Rigg, e Thomas non si è arrabbiato troppo, né perso d'animo come magari sarebbe successo ad altri.
"E' il più maturo dei nostri ragazzi" mi ha spiegato Christian Brandi che segue i tre ragazzi nella trasferta australiana. Brandi, qualcuno ricorderà, era un giocatore dal buon rovescio, molto leggero, ma dotato di discreto talento. Giocò tre doppi di Coppa Davis, a metà anni '90, in coppia con Stefano Pescosolido. Ne vinse due, uno lottatissimo, contro Ungheria (Noszaly e Markowitz a Budapest, 12-10 al quinto o giù di lì…cito a memoria) e contro i Cechi a Napoli (battendo Suk e Damm, coppia non facile da battere), perse quello di Palermo contro Reneberg e Palmer (e i singolaristi Usa in quel match erano due sconosciuti, Sampras e Agassi: una coppia così strana che a Palermo nevicò).
Mi incuriosiva il fatto che Fabbiano, l'unico che non si allena a Tirrenia dei nostri giovani più promettenti _ "Ha preferito restare con il suo maestro Pierri" _ fosse più maturo degli altri che vivono insieme. _Perché? _ ho provato a chiedere a Brandi. "Non so, ma è così…fra questi junior si vedono alcuni che si comportano già come se fossero dei giocatori veri…penso al francese Eysseric che pare già un professionista (e amici croati mi dicono la stessa cosa del loro Klizan, n.1 qui e campione junior a Parigi), mentre i nostri sono più ragazzini…per esempio Giannessi che è arrivato in semifinale agli Europei era già contento di essere all'Orange Bowl, mentre altri più scarsi di lui erano lì per vincere il torneo…capito?"
Dio mio, e pensare che io sarei stato come Giannessi! Ecco perché noi italiani non vinciamo, non crediamo abbastanza in noi stessi. E allora, ripensandoci, magari ha ragione Piatti che si prefigge obiettivi ambiziosi (vedi un paio di blog fa…prima o poi imparerò a mettere il link, datemi tempo), tipo vincere la Davis, vincere uno Slam (senza usare mezzi termini come farei io… puntiamo a risalire in A poi…), rischiando di farsi ridere dietro da chi li trova reboanti (che noia scrivere reboanti, che è più corretto, quando mi verrebbe così più spontaneo roboanti…boh, mai capito). Tornando ai nostri juniores, e ricordando che ai successi dei maschi hanno purtroppo fatto riscontro gli insuccessi di Zanchetta, Vaideanu e Barbieri tutte eliminate _ un'inversione di tendenza rispetto al circuito maggiore? _ voglio dirvi che al precedente torneo junior di Traralgon, a due ore da Melbourne, Fabbiano ha epso in semifinale, Lopez e Trevisan nei quarti. Quest'ultimo dal ceco Roman Jebavy che deve essere forte, molto forte di testa, se è ruscito a sopravvivere nel suo Paese a tutti gli sfottò legati al suo cognome. Sapete come un ceco traduce in inglese Jebavy? Fucking. (blog vietato under 18).
Nel mio peregrinare fra i campi dei ragazzini (no, non sono pedofilo) ho incrociato Ugo Colombini, 39 anni, fratello maggiore di Riccardo (37) che dopo essere stato per anni uno dei responsabili tennis-marketing della Nike, è diventato da uno sport-marketing Nike per tutta l'Asia e l'Oceania, senza distinzione di sport. Non solo tennis, quindi.
Ugo invece ha un'agenzia di management in proprio. Fra i suoi clienti più noti (in mezzo a tanti giovanissimi che lui va a pescare quando sono ancora in fasce…) ha Del Potro da sei anni, due vecchi cavalli in disarmo …Pavel e Novak, la Camerin e la Ruano Pascual, la Suarez e la Safarova (le cui azioni sono chiaramente in crescita dopo il suo successo sulla Mauresmo) i giovani promettentissimi olandesi Haase e De Bakker, Arnaboldi (che ha avuto un'annata difficile e si allena in Spagna), l'austriaca Tamira Paszek (che vinse lo scorso anno un torneo Portoroz).
Tornato in sala stampa _ non senza aver dato un'occhiata a Vilas che scambiava palleggio forsennati con Woodforde _ ho visto un nugolo di giornalisti australiani, non meno di trenta, rinchiusi nella saletta n.1 delle conferenze stampa. Erano tutti lì per questo ragazzino aussie Tomic che rappresenta la loro più grande speranza. Ha vinto l'Orange Bowl under 14 ed è il più giovane aussie che abbia mai partecipato al torneo junior per diritto di classifica ITF (cioè senza l'aiuto di una wild card). Mi sono presentato, ci ho parlato un pochino, è già sponsorizzato Nike (Colombini?) e si atteggia già a piccola star, L'altro giorno su un giornale australiano c'era un servizio di due pagine. Stamani c'era anche la tv. Ha la faccia proprio da bambino. Ma è già alto un metro e 81. E' nato a Stoccarda, perché i suoi genitori croati della Bosnia erano scappati in Germania durante la guerra dei Balcani. Quando lui aveva tre anni però si erano trasferiti qui in Australia e lui oggi gioca per il suo nuovo Paese (dove aspettano a gloria un successore di Rafter e di Hewitt). "Il mio idolo era Lleyton, ma negli ultimi tempi mi piace più Federer…" ha ammesso. Un giornalista croato ha tentato di avvicinarlo, per cercare di ricostruire le sue origini esatte, ma lui _ sia pure con un sorriso _ gli ha risposto, "Scusa, ma sarebbe meglio che tu parlassi con il mio manager". Il croato, offesissimo, ha voltato le spalle e se ne è andato. Come, chissà, mi sarei probabilmente comportato io se Fabbiano, con il quale mi sono calorosamente congratulato laggiù sul campo n.21 (uno dei più lontani), mi avesse invitato a chiedere informazioni sul suo conto al suo manager. E se invece per diventare campioni si dovesse davvero diventare arroganti e presuntuosi? Per la verità né Federer né Nadal, che pure hanno in Mirka e Benito i loro press-agent, lo sono.
Per finire una domanda a tutti. Riflettete bene sulla risposta. Se Roma potesse scegliere la data del torneo femminile per il 2009, e quello maschile finisse _è già sicuro _ una settimana prima di Amburgo (che si chiamerà probabilmente Madrid…ed avrà inizio alla domenica come combined), sarebbe meglio avere il torneo femminile la settimana prima ancora del maschile (quindi ad aprile) oppure dopo il maschile (quindi in contemporanea al torneo che verrà messo nel mezzo fra Roma e Madrid)?
A quanto ne so l'Italia (Palmieri e Binaghi quindi) non ha ancora scelto, ma deve farlo alla svelta. Ditemi la vostra (che io la inoltro a Palmieri e così lui farò quasi certamente…il contrario).
P.S. Hingis e Clijsters stanno 4 match pari, ma secondo me se la Clijsters tira forte come sa, per la Hingis non c'è strada. Scommetterò su una sua vittoria in due set. Posso spendere…Gonzalez, pagato a 2,65, mi ha fatto tremare quando si è trovato sotto 4-1 nel secondo set e 4-2 40-0 con Blake (imbattuto quest'anno) e anche quando ha avuto due matchpoints sul 5-3 nel terzo e si è ritrovato sotto 6-5 e poi al tiebreak per fortuna ha invece giocato splendidamente.Non ditemi che la sconfitta di Nalbandian con Haas è una sorpresa! Ci avrei messo la casa, se solo fossi arrivato un po' più presto e non mi avessero chiuso il botteghino. Nalbandian aveva vinto due match al quinto con i matchpoint contro, aveva un ginocchio gonfio così…Ieri sera il favorito era ancora lui, stamani presto aveano cambiato le quote e il favorito era diventato Haas, com'era logico che fosse…Difatti ieri sera intanto Francesca Schiavone, con la Schnyder, dopo aver vinto il primo set ha perso da Stosur-Raymonds nel rispetto del pronostico, 3-6,6-2,6-3. Parlato con Woodforde: mi ha chiesto di Nargiso. Che cosa fa? "Non potrò mai dimenticare quando a Wimbledon cercò di colpirmi con una pallata di servizio tirata dall'altra parte del campo. Non aveva alcuna chance di colpirmi, ho sempre avuto buoni riflessi, se un servizio mi fosse arrivato addosso non avrei potuto essere un buon ribattitore…Deigo suscitò una mia reazione che, forse altrimenti non ci sarebbe stata e avrei perso il match…Ma ora siamo amici, che sta facendo? e a Silvia farina devo portare invece via web i saluti della sua vecchia compagna di doppio, Barbara Schett che ora lavora per Eurosport. "So che ha avuto un bambino, ma non l'ho più sentita…". E che, eurosport non glielo paga il telefono?
Interviste di Hingis, Gonzalez, Clijsters, Haas
M. HINGIS/N. Li
6 4, 3 6, 6 0
An interview with:
MARTINA HINGIS
THE MODERATOR: First question, please.
Q. You hadn't played Li before. Did it take you some time to work out her game today?
MARTINA HINGIS: Well, it did take me a little bit of time. But we practiced in the past a couple or three times. I pretty much knew. She's not that new on the tour. I knew what to expect.
But I was really nervous in the beginning. She played well. You know, everyone else knows by now she serves almost a hundred percent first serves. Didn't really give me too many chances to do something.
I was thinking, Okay, if she can continue to play like that, it's too good. I just tried to hang in there. That was the most important thing. That was the key, to win the last point.
Q. Were you more nervous today than what you've been for other matches similar to that?
MARTINA HINGIS: I was nervous in the first match. Pretty much every one. Somehow it's a different opponent. Even the first point of the match already, she got that ball pretty good, and I missed that first volley. After that I felt a little more pressure.
I don't know. She just played really well, very consistent, compared to the other players, where they made a lot more errors at crucial points, but here I had to earn it. That was the difference. That's why she made the fourth round. That's why she had such a great win against Safina. I had to earn it.
Q. She ran you around a lot in the first set.
MARTINA HINGIS: It's funny. Some players were like, You did a lot of running today. I was, Yep, but I tried to make sure she did some, too. I think she was a little more tired at the end of the match because I was able to turn around the momentum. She started missing some easier shots.
I mean, you could tell by her expression that, you know, she was also worn down a little bit.
Q. It's a good test of your fitness today?
MARTINA HINGIS: Oh, for sure. That's the first time I won a three setter this year so far. Definitely happy. And against someone like Na Li, it's quite satisfying.
Q. Maybe the key game was the fifth game of the second set.
MARTINA HINGIS: It was very important. I think that's what turned around the momentum. Holding that serve against the wind, against the sun, was quite key because after that she would just not be under the pressure, same as she was afterwards, because the sun started coming out. It was very difficult to serve against the sun.
After I held there, she missed a couple of returns, which I was like, Okay, thank you. I should take advantage of that because she wasn't missing up until that point too many. That definitely gave me a new whole kind of life into the second set, yup.
Q. You're 4 All with Kim Clijsters. Where do you think the differences are between the two of you?
MARTINA HINGIS: I think that's pretty obvious. The difference is I'm more of a counterpuncher. She's the more offensive player. In the last year we had a great match here. I was able to fight back. It was a quite slow start.
I know I have to come out a hundred percent and ready from the beginning, otherwise I'll be run over. That's the key. I have a day rest tomorrow. Just practice, sleep well, give myself the best shot.
Q. You lost the first set in the tournament. Can you talk more about what part of your opponent's game made you most uncomfortable? Do you think she's a typical Asian player or not?
MARTINA HINGIS: Well, I think she had a great season last year where she kind of made her breakthrough. She played well in Berlin, also making the quarters at Wimbledon. I think she is quite typical, but she's also stronger.
Also mentally I think she started believing after that a little bit more. A lot of times it's confidence that you know you belong to the top group, to the elite, and you can make it in the crucial times.
I think that's another step which she made. Pretty typical, the game, yes. Very flat, very strong. Yeah, I was happy that I was able to break her down at the end.
Q. After those six glorious years here, is the feeling coming back now?
MARTINA HINGIS: It never ended. I mean, even I was here as a commentator, it's still a great tournament to come back to. I don't know. For some reason, it's always been the place where I feel most comfortable. I'm like, This can't be it. No matter what, this is not my last appearance on center court today, not this year. Somehow that's what kept me alive. It was the mental state of mind.
But I think here it's even more special, having done so well in the past.
Q. I was told someone is organizing a mixed double in Prague, Hingis/Stepanek, against Berdych/Safarova. Who is going to win it?
MARTINA HINGIS: Really? I haven't heard of that. I don't think I will participate (laughter).
Fernando Gonzalez
F. GONZÁLEZ/J. Blake
7 5, 6 4, 7 6
An interview with:
FERNANDO GONZÁLEZ
.
Q. You've reached your first Australian Open quarterfinal. Would it be safe to say you're probably playing the best tennis of your career?
FERNANDO GONZÁLEZ: Maybe. Maybe last match against Hewitt I play really good tennis. I mean, I feel very light on my shots. Today also I have a really good match against James.
Maybe can be the best tennis of my life, but I know that I can still improve in some things.
Q. What are those things you can improve in?
FERNANDO GONZÁLEZ: My return of serve. I mean, that's give me a lot I mean, I can play much better when I make a lot of returns in.
Q. Are you confident in making your first Grand Slam semifinal? Can you get over the next hurdle?
FERNANDO GONZÁLEZ: I am thinking. That's the next step. It's only one match away. I'm ready. I know that I have a really tough match on the next round, too. But I trust in my game the way that I'm playing. I hope to continue many more matches like this.
Q. What did Larry bring you in the few months technically and mentally?
FERNANDO GONZÁLEZ: I mean, in technique, trying to play with more first serve. My slice is much better. My volley, my return.
And mentally, I'm like little bit more relaxed on court, maybe enjoying more the match no matter what happen during the match.
Q. You seemed a bit tight at the end of the last two matches against Lleyton and James. Have you started thinking about what was at stake? What has been happening at the end of your matches?
FERNANDO GONZÁLEZ: No, I mean, I just try to go and win every point. When you think too much, you don't play really good. I try to be focused in every point, try to win the next one, try to speculate what he's going to do, what you have to do.
Q. What was going through your head when James broke back at 5 4?
FERNANDO GONZÁLEZ: It was tough moment because in the game before, had two match points. One stay like in the top of the net, and it was over. I feel it. Then I was serving for the match against the wind. I know James was with nothing to lose. That was really tough moment.
Q. Did you do anything to get back on track?
FERNANDO GONZÁLEZ: I didn't get back because I didn't go away. Maybe I didn't play my best tennis in that game, but I stay in the match. I didn't come. I just stay, see what happen.
Q. Were you worried at all that you had given James an opening that he might take advantage of?
FERNANDO GONZÁLEZ: Absolutely. When you have the match in your hand, you feel that it's going little bit, is tough. But is happens to everybody. So today it was an exception. But the most important thing that after I went to the tiebreak and I play good tennis.
Q. James came in with a lot of confidence into this game. What was your strategy to break down his game? Did you have a particular strategy?
FERNANDO GONZÁLEZ: We know each other really good with James. We play many times. I know that he have really good shots. He serve good, have a good forehand. He runs a lot. He's a good athlete.
But I know, I mean, with my forehand, when I play high, try to open the court and go in, that maybe is my best tennis. That was maybe the key.
Q. Journalists give more importance to stats than players normally. Everybody knows Blake had never won a five set match. Did you know that?
FERNANDO GONZÁLEZ: No.
Q. That doesn't help your confidence if you lose the third thinking he will lose in the fifth?
FERNANDO GONZÁLEZ: No, I didn't know that. But even if I knew before the match, I mean, no matter. The stats you always trying to breaking or improving.
I didn't know about that.
Q. When you're going out there today, considering how well you were playing, do you feel like nobody can beat you?
FERNANDO GONZÁLEZ: I feel that I can beat anyone, not nobody can beat me. Maybe it's a small difference. But today I knew that I have a tough match against James. I mean, he won last week. He did final in the Masters. He's win a lot of straight matches. It's tough to play against a guy that is winning and winning.
Q. What are your thoughts on your prospective quarterfinal opponents?
FERNANDO GONZÁLEZ: I have a tough match. I play with Rafael last year. With Andy, I lost to him in the US Open last time. But now we're in quarterfinals. You have more matches winning. You have more confidence. They have really tough match tonight. They're going to play very long. I hope that they can run a lot.
Q. Can you say what you have to do against those two players?
FERNANDO GONZÁLEZ: With Murray I lost last time because I did too many mistakes. I tried to make too much sometimes. I think the play very similar with a difference. Rafael is more power, and Andy have more touch. Maybe he feel better the ball.
But try to make my game and maybe don't try to play too good, you know. That's a big error that sometimes I make.
Kim Clijsters KIM CLIJSTERS: They asked me that question the other day. I was like, gee, they're already thinking about making a comeback and I'm still playing. Haven't retired yet.
I don't know. We'll see. I doubt it very seriously.
Q. What about visiting Australia beyond this Australian Open?
KIM CLIJSTERS: Yeah, I would love to do that. That's something I've never really been able to do. Yeah, we go to really beautiful cities. I played Hopman Cup a few times, in Perth, going to Sydney, Melbourne. When you're here now, and Sydney as well, you're always focusing on playing.
You have a couple of hours off in the afternoon. You just walk into the city. You just want to see everything outside of the city, as well. That's something that I would really love to do, is maybe come back for like a month or so and just travel around. But that's not for now. That's for the future, in a few years.
Q. You said earlier you and Martina have a good off court relationship. Will you talk to each other before this game?
KIM CLIJSTERS: We always kind of joke around in the locker room, kind of tease each other. In the beginning of the week, we were like teasing each other about who was going to be able to finish their match quicker. So, yeah.
It's fun. It's like a very healthy relationship, I think. We all try to win when we're out there. Of course, that's normal. We know that's what we're here for. If I lose, yeah, then too good for her.
If I win, we get into the locker room, we still talk about maybe the match a little bit or things that happened. That's how it's always been with us. The other day we were laying on the massage table inside talking, laughing. That's good. I think it's nice to have those kind of girls on the tour.
Q. Any wedding plans?
KIM CLIJSTERS: No.
Q. You still have to focus on winning the tournament, good memories. Is there any room for sadness, knowing at the end of the week Australia will be finished?
KIM CLIJSTERS: I'm sure that will be when I leave. For now the sadness is definitely not there yet. I was sad when I left in Sydney last week, saying good bye to everybody, the people that you get to know. I'm sure it will be the same thing here.
I always look forward to coming to the courts, to seeing the people that I haven't seen for so long. A few of my friends flew over. That's so nice to see that. Yeah, it makes it even more special.
But as long I'm still playing, as I keep going well in the tournament, then, no. You just have the tennis to focus on. But afterwards I'll take my time to say good bye to everybody, yeah.
Thomas Haas
T. HAAS/D. Nalbandian
4 6, 6 3, 6 2, 6 3
An interview with:
TOMMY HAAS
Q. You've now won all three matches against Nalbandian. Why do you think you have the advantage over him?
TOMMY HAAS: Good question. I think my game probably matches up pretty well against his. Each time we've played, it's actually been close matches, but I seem to maybe use my chances a little bit better.
I think today he played really solid at the beginning of the first set, which started to worry me a little bit because he barely made any mistakes, especially on the backhand side. He was playing extremely well.
As soon as I got that second set under my belt I felt pretty confident. I liked what I was doing in the second set. I was just trying to figure trying to continue doing that. It seemed to work pretty well today.
Q. What pleased you most about today's match?
TOMMY HAAS: Just the way I was aggressive, kept focused pretty well. I think I served really, really well at important times. Yeah, just obviously very pleased of beating David, being in the quarterfinals here once again.